Sr. Mechanical Engineer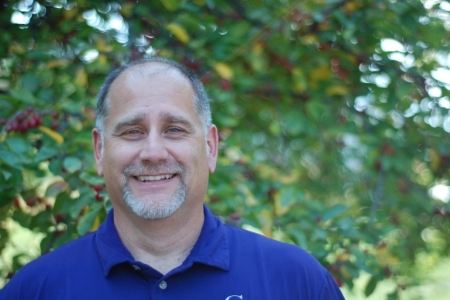 With GDS since 2005 | BSMET at Kansas State University 1989
Email: Chris Huber
Phone: 816-759-5215
Explain what you do here at GDS.
I am a senior mechanical engineer who is apart of a great team at GDS working on a variety of projects including data centers, office buildings, schools, labs, tenant finish for spaces, chilled water plants and have worked on industrial spaces. Project work includes HVAC design (air side, chilled/hot water, piping, ductwork), specifications, and consulting with owners to help solve owner issues with their buildings.
Why do you enjoy working the engineering/design/construction field?
It is very satisfying to work through a design, and see the project come to life as it is constructed. I have had many projects in the past where working with the project teams has been a great experience getting to work with great project teams including architectural/structural, general contractors and their MEP subcontractors. When everyone on the team is working to the same end goal for the owner projects seem to go a lot smoother.
What is your favorite work-related memory?
I don't have one specific. In 32 years of doing this work, I have a couple of projects that stand out because of the work that was done and the project team that was put together to accomplish the task. One project was a lab for NOAA in La Jolla, CA. There were 10 or 11 different architects/engineering firms on this project and everyone got along great. Most recently is an eight-story office building that was recently completed. Again, working with a great project team both in design and construction.
What inspires you?
A challenge on projects, and coming up with solutions that people are proud of when the project is complete.
What accomplishment or award you are most proud of?
I did a design for an exhaust system for samples that were packed in dry ice. There was a need for exhaust, at not only the shipping station where samples were unpacked, but also at individual work stations. I designed a table in the shipping area where samples could be unpacked while the exhaust at the perimeter of the table captured the off-gassing from the sublimated dry ice. The individual work stations had a similar design.
Tell us about your background and why you chose to work at GDS?
I graduated from Kansas State University in 1989 and began my career at Sega Inc. (now Powers). At Sega, I worked in their building systems group doing what I do today, but also did a lot of work in industrial and power plant settings. I worked there for 14 years before moving on to another firm. I worked at a couple of firms over the next 2 years before comingto GDS in 2005. Prior to coming to GDS, I was looking for a more stable place of employment along with being closer to home. I was previously driving over 100 miles a day round trip. After leaving my previous employer, I had heard from a friend that GDS might be looking for someone. So, I sent in my resume and had a couple of interviews before being hired. I have been at GDS for 15 years now and it is a great place to work.
What do you enjoy outside of work?
I enjoy doing projects around the house (some more fun than others), working on cars, gardening and generally being outside. I like to fish and hike.
What are three words you would use to describe yourself?
Loyal, honest & kind.