Using Views in Revit to Improve Efficiency – Part 1
Courtney Hays, one of our resident CAD/BIM experts, shares some helpful tips on setting up views in Revit to maximize working efficiency.
Tile Your Views
Sometimes it's necessary to see what's being modeled in multiple views. Instead of switching through tabs repeatedly (Ctrl+Tab to go forward, Ctrl+Shift+Tab to go back), you can tile your windows and see the changes as they're happening. Click on the View tab and select Tile Windows.
Type WT, or from the View tab, in the Windows group on the right side, select Tile. All open views will be tiled.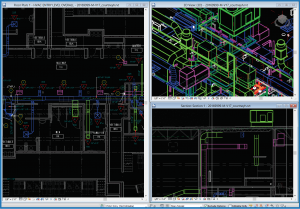 Orient to View
3D views are helpful when needing to visualize a layout from different angles. Rather than opening multiple section and plan views, use a 3D view and orient it to a section cut. To do this, open your 3D view within the model, then right-click on the view cube at the top right. Mouse over the Orient to View sub-menu, then Sections, and select the section view to use.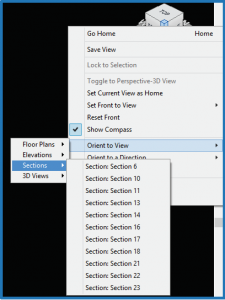 Your 3D view will show the extents of the section and you'll be able to move the view cube around to see the building and equipment placement from different angles.